Reconstruction of the Acrux:
A Cross 42 foot Trimaran Sailboat
Please Note: This was written primarily so the boatyards could look it over and review it to give us an estimate on how much it would cost to get the boat fixed up, so we could decide whether to fix up the Acrux or buy another boat. It was written in the fall and early winter of 2002.

July 7, 2004: The Acrux was returned to us in June. Many of the things on this list were done, but some were not. I've added comments in italics, to indicate things that weren't done--and whether we plan to do it or not.

---
Disclaimer:
Please note that this wish list may not be complete; we don't know what we will find when we get started on the project. Also, some items in this list may not be done due to cost.
Discussion:
The Acrux is a Cross 42 MK II. It was built in Texas in 1978. I am a little fuzzy on exactly how it got to Alaska, but I was told it went through the Panama Canal and went to Hawaii. I am under the impression that it was also in California for awhile.
I first became interested in the boat in the late 1980's. It was not being taken care of very well, and indeed one winter the person who had been hired to shovel it off wasn't paid. So it accumulated enough snow to shove it below the water (though it did not go to the bottom--it is lighter than water!) I pursued the boat and managed to acquire it in February 1992. Since then I've done quite a bit of sailing around Prince William Sound with it, and ventured as far as Seward (about 150 miles). Although I did keep up with some of the repairs needed to keep the boat operational, others I did not. As a result the boat is not in very good shape currently--perhaps a little better than when I acquired it, but not much!
Now Frankie and I want to use the boat for extensive cruising. This means we need to convert the old wreck into a first class cruising boat. The hull was very well built, there is very little rot on the boat, and it is exactly the design we want. So we are going to have it rebuilt. Since we currently do not have the time to do it ourselves, we are going to hire most of the work done. We expect this will be pretty expensive...
The boat was purchased when my time was worth less than my money. Now my time is worth more than my money, making it worth hiring the rebuild project done. We had considered building an entirely new boat, but it is probably more cost effective to rebuild this one. In the event the estimate for rebuilding the boat is higher than expected, we may reconsider building a new boat.
---
The Acrux: foreward 2/3: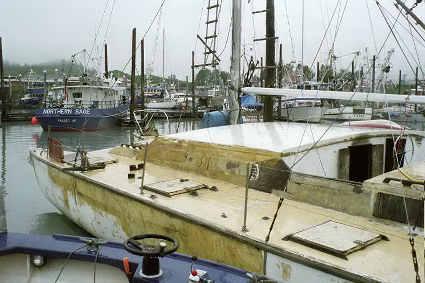 Aft 1/3: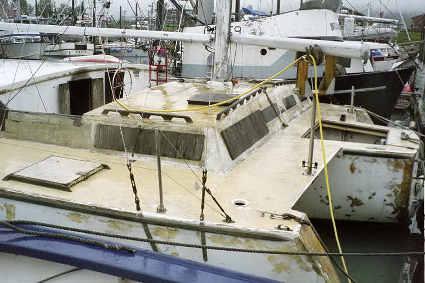 The Plans: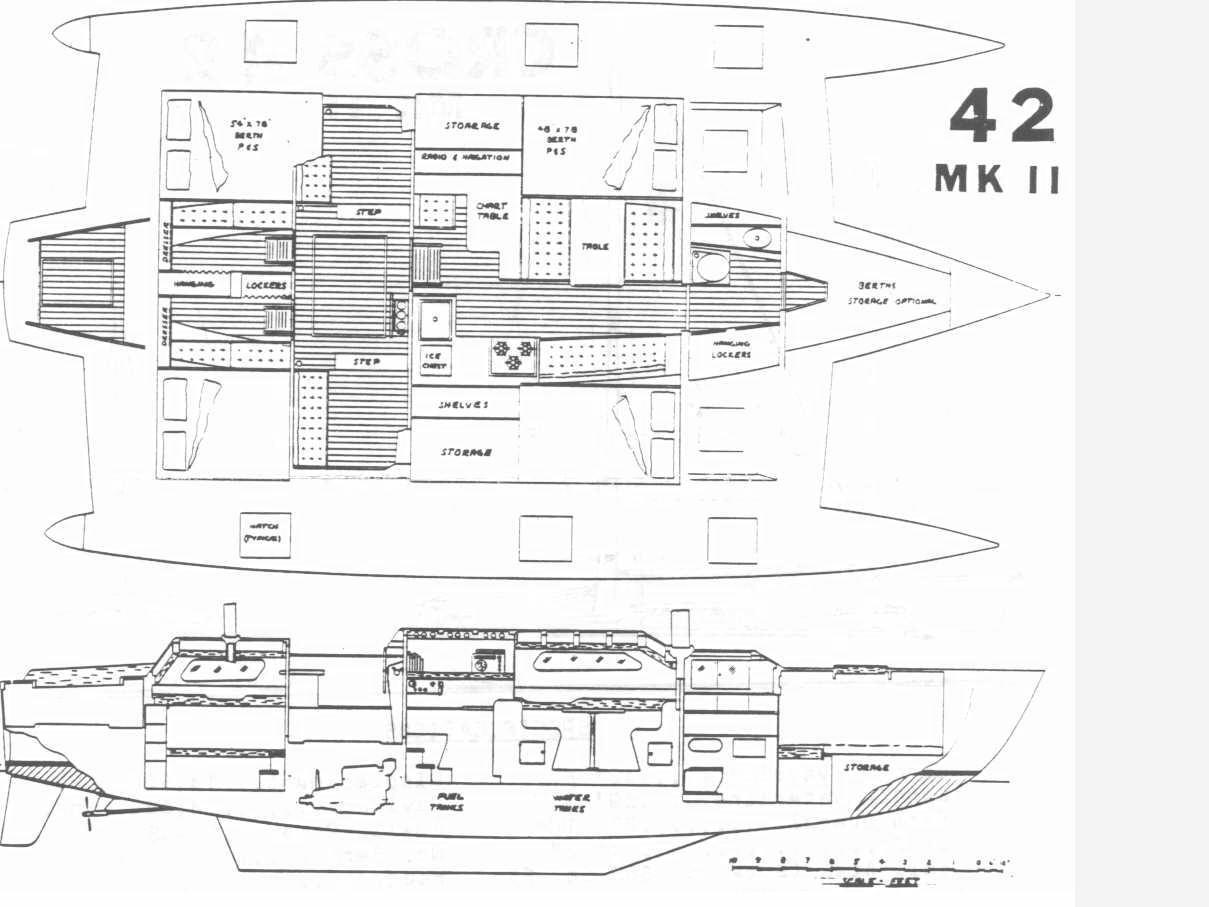 ---
---
All the photos taken for this project are linked through an index, which can be used to find various areas of the boat...
Or you may access them through listings for each roll:
All these rolls taken on 7/11/02:
Hull - outrigger rot areas (20 sf)--needs cold-molded wood rebuilt
The hulls on both outriggers had a center section of glass peel. See roll D, photo 5 and the photos immediately following that for the starboard damage. See photo 15 for the port areas (which have been temporarily patched over with fiberglass). These areas need to be completely rebuilt by cutting out the rotted wood (there are 5 layers). See also outriggers and fiberglass peeling & repairs.

Done, with care and expert finish

.

---
Hull - burnt spot (10 sf)

In January 2002 there was a serious electrical short on the Acrux. This short started a small fire, which burned about 10-15 square feet of hull, seriously damaged the bottom of the navigation table, and burned out a rib and several stringers. It also burned a hole completely through the hull about 3 inches above the waterline. This has been temporarily boarded up. This area needs to be completely rebuild. See also burn.

Done, with care and expert finish.
---
Hull & top re-glass (~2,500 sf)

The fiberglass on the entire boat is in very poor shape, primarily due to delamination. Some areas are much worse than others. As a part of this there are probably a lot of areas that will need sanding after the old glass is ripped off. Port and starboard outriggers photos above (outrigger rot section); under both the port and starboard bridge decks there is peeling glass; there are cracks in the glass near the aft end and peeling by the cockpit. The aft end glass is suspected of leaking when the boat sits low in the water (due to snow). The port outrigger bow was hit and broken off, and while partially repaired, it still needs work and fiberglassing. The main cabin roof was recently re-glassed (1997-1998), but I am not satisfied with the job I did and would like it pulled off and re-done. While we estimate there is about 2,500 square feet of surface area on the boat, we are by no means sure of this number; the boat is 42 feet long and 22 feet wide.

This is by far the biggest single project for the entire boat. For more photos see also fiberglass peeling & repairs, outriggers, main cabin and deck.
Done, with care and expert finish.

---
Hull paint

Painting the hull is basically an extention of re-fiberglassing the boat. Because we plan to do extensive cruising in the tropics we will want a very light colors, probably white but possibly some other additional colors (eg blue stripe)--essentually we want it re-painted the way it is now. Probably the decking we walk on will be tan like it is now (eg the color the port outrigger is now.)

Done, with care and expert finish.
---
Engine (32 hp Yanmar)

Although there was an inboard in the Acrux at one time, when I acquired it there was none. I have been using an outboard during all the trips I've taken with the boat around Prince William Sound, but it is not adequate for use on the open ocean.

Having looked at a number of different kinds of engines, and discussed them with many people, I think a Yanmar would be the best for my purposes. The recommended size for my boat is 25-45 hp. We are more interested in getting higher miles per gallon than speed. However we also are interested in going up some rivers. So we have settled on 32 hp, or as close to that as we can get. The engine compartment needs some work (paint, mostly). The hatch needs to be rebuilt or replaced; one side is cracked. The engine mounts (aft) (foreward) need to be replaced. The fuel tank should be 100 gallons, with the possiblity of a second of another 50-100 gallons (perhaps a fuel bladder, to keep the weight down). Engine controls should be placed on the wheel pedistal, which is located immediately above the engine compartment. If it is not too expensive I would like to a remote control for the engine (see below).

See also engine compartment
Done; only we installed a Westerbeke 44 B Four of 44 horsepower. We chose that because we had heard the Westerbeke was a better engine than the Yanmar, that it was quiet and that the 44 wasn't much heavier than the 30 hp range. It is, unfortunately, noisier than we wanted by quite a bit--but we hope that we can make it quieter by sound-proofing the engine compartment.

---
Engine drive shaft

The engine drive shaft needs to be replaced.

See also engine compartment
Done.

---
Engine propeller

I have not researched folding props, but will probably review Popular Sailor (which had an article on it a few years ago) and choose their recommended prop if none is recommended to me.


We only installed a straight prop. Eventually we'll get a nice folding prop; in the mean time we leave it out of gear and let it freewheel (which it starts to do around 5 knots).



---
Drive shaft water seal

I have not researched drive seals, but will probably review Popular Sailor (which had an article on it a few years ago) and choose what they recommend if none is recommended to me.


Done, only with the old stuffing box rather than a fancy water seal. The whole drive shaft turned out to be pretty noisy, which we don't much care for. Something to fix at a later date?



---
Bow railing

Prior to my obtaining the Acrux, it was sunk by snow load. In the process of getting it raised, the bow rail was damaged. I want this replaced. Also, the wires which ran aft were very hazardous: they extended onto the main deck and were easy to trip over. This needs to be re-thought (I removed the wires). Perhaps run the railing a little further aft.

See also bows. Not done, just somewhat straightened. The wires were shortened so the don't reach the main deck.
---
Nav table + burn area repair/replace

The fire burned the bottom of the nav table, the back of the main table bench, several hoses and shelves. These all need to be torn out and replaced.

See also burn, and nav table. Done, with care and expert finish.
---
Electric system replacements/rebuild

Many of the wires in the boat are old and in poor condition. Most (if not all) should be replaced. Also the electrical panel (at the far end of the nav table) should be replaced. Currently the boat has no batteries.



All of the wires were replaced, new panel put in, etc. There are two batteries, a new one of 100 amp hours and an old one of 100 amp hours. Several things remain to be done:



Bunk lights
Power (12 volt and 110) and lights to the outriggers, especially to where I want to put the office
Power for ham radio
110 volt outlet on the nav table wall
Nav lights for motoring; they aren't correct now (missing the red & green for the hull)
Battery isolator so the two batteries are charged separately (currently alternating use between the batteries)
Install the solar panels
Install the solar panel charge controller
Install more 12 volt outlets in the nav station
Wire the aft cabin for the radio shack?
Port closet light?
Power to the depth finder
Re-wire the electrical panel to conserve breakers
Re-wire the bilge pump so the automatic switch is on the panel
Fix the fuel gage
Isolate the cockpit lights from the courtesy lights
Wire the compass
Wire the propane tank remote switch

---
Windows (~15)

There are 15 windows throughout the boat: 2 in the head; 4 across the front of the main cabin; 4 on the sides (these have been fiberglassed over) of the main cabin; 2 along the sides of the aft cabin and 4 along the back of the aft cabin. These windows are of plastic (plexiglass?) and we want them replaced with a higher quality material.

See also windows
Done, with care and expert finish.

---
Instrument - radar detector

A radar detector to detect ship radar would be very useful, and help us avoid shipping (especially when the boat is being sailed single-handed.)

Not done.



---
Main mast head rebuild

The main mast wires and head needs to be completely rebuilt. There are 6 wires that come down from the masthead, and 4 more that form ladders from the spreaders, and 2 more that tie into the spreaders. All these wires should be replaced; the long ones I would like replaced with rods instead of wire.

See also mast


The mast heads were rebuilt, and the halyards, though not rebuilt, these were all inspected.

---
Compass

The compass, which goes on top of the wheel pedistal, is missing from the boat. It needs a new one.



We have it, but it isn't installed yet.



3 bilge pumps (manual)

The current bilge pumps are old, and should either be replaced (especially the one that was burnt in the fire) or totally rebuilt. There are two large bilge pumps (cockpit which pumps from the engine compartment; and the main cabin, which pumps from the main cabin bilge. There is another small bilge pump which pumps from the head (it has a broken handle).

See also pump.

See also bilge.


This was only partially done, and not the way we wanted. Neither of the manual bilge pumps were nearly big enough, so we got a large bilge pump to use wherever needed. Though not done, it needs to be mounted on a board and set up with hoses so we can use it anywhere necessary.

---
Engine hatch cover

The engine needs a new hatch cover. It is old and cracked. The vent needs to be sized appropriately to the new engine.

See also hatches.

See also engine.
Not done, but rebuilt. The result wasn't what we wanted quite, but it will do until we can have a good one done.

---
Safety equipment

Many items of safety equipment will be wanted, both to meet the Coast Guard qualifications and to help assure our safety. This list has not been developed yet, and we are open to suggestions. As I expect I will end up sailing the boat from Alaska to Seattle, many of these items should be obtained prior to leaving Alaska.


Done.



---
Life raft

The boat has 4 double berths, so we want a life raft that for 8 people. Since we will be doing a lot of open ocean working, it needs to be a high quality (ie not a coastal one). As I expect I will end up sailing the boat from Alaska to Seattle, this item should be obtained prior to leaving Alaska.


Not done. We have been advised by some that a multi-hull shouldn't carry a liferaft because the extra weight actually makes it more hazardous than being without; that the multi-hull won't sink; and that if the ship has problems you should stay with it at all costs. I take this with a considerable grain of salt, but for now we don't have a life raft. We'll probably re-visit this issue again soon.



---
---
****This ends the items which are absolutely required before the boat is even safe to sail. What follows are only slightly less important.****
---
---
Hull - transom total rebuild

The transom of the boat has had a chronic leak, it has wood which has buckled internally (I haven't pulled any apart to see why, though it looks like the outer layer of wood has waves in it due to moisture and delaminaiton) and has 'sticks' sticking out of it which the previous owner put on for some reason or another. All together, I think it would be cheaper to completely replace the transom of the boat than to try to rebuild what is there.

See also aft end.


We opted to go with a sugar scoup, which are basically steps down to the water from the stern. They did a very nice job, though it did add 6 feet to the length of the boat, instead of the 2-3 promised. But it sure works great, so it is well worth the extra sacrifices made.

---
Doors (aft cabin, main cabin)

The boat essentually has no doors now. The doors into both the main cabin and the aft cabin are merely pieces of plywood on hinges. New doors are a must. The door into the main cabin needs to be designed so it can be very securely locked (ie it would take a determined person an hour to break in); the door into the aft cabin needs to be lockable, but not completely secure (ie it would take a determined person 5-10 minutes to break in).

See also doors.
Done.

---
Nav lights

Some of the running lights on the boat are inoperative or missing (ie the port [fuzzy photo, sorry] and starboard red & green lights). All the nav lights in the boat should be looked at, and I think it would be a good idea to have the wires replaced that go to the nav lights.

See also nav light.
Done.

---
Stove

Right now cooking on the Acrux is on a propane camp stove. There used to be a standard, gimbaled stove in the opening where the camp stove is now. We want a 3 burner gimbaled propane stove that has an oven. We prefer Force-10.

See also stove.
Done; we got a Force 10 gymballed 3 burner stove with an oven. Very, very nice. The gymball lock wasn't quite right, but it was just a matter of drilling the hole a little bigger and moving the locking plate.

---
Toilet rebuild

The toilet may not need to be replaced, but if it isn't we want it completely overhauled (it may be cheaper to replace it). The hoses definitely need to be replaced. The box which it is sitting on needs to be modified so there is a holding tank below it, with access (hinges, perhaps?) into the box to give access to the tank. Facilities for pumping the holding tank out are also needed. The toilet needs to be plumbed such that it can be either pumped into the holding tank when in terrestrial waters, or outboard when away from shore. The toilet, holding tank, and all associated hoses and pumps need to be properly installed and connected. See also below: toilet box replace.

See also toilet.


Toiled was completely replaced, with holding tank.

---
Radio - SSB

A SSB radio capable of broadcasting on marine frequencies is needed. It may be possible to combine this with the ham (amature) radio I also want to get; more research into these options is necessary. As a part of the radio installation, I need antennas, coax, battery wires all installed. Also the nav table, where the radio is to be installed (by the black hole at the back of the table) needs to be modified so that it has a false front (essentually a false wall which runs from left to right across the photo) to make it appear there are not valuable electronics there.

See also nav table.
Not done.

---
Battery bank (2?) + wiring

Currently I don't have any batteries on the Acrux. In general my power demands will be modest, with the primary heavy consumption coming from cabin lights. It is anticipated there will be no refrigeration; use of the radio will be only intermittent, somewhat heavy computer use (my current computer uses less than 70 watts). Also in interest to keeping the weight low I do not want a heavy, complex battery system.

Probably a large percent of the time the batteries will be charged via alternative energies (solar, wind, water). This should be kept in mind when designing the system. However, I will also have no qualms about running the motor to keep the batteries charged, so a really robust system (again) not required.

A minimum of 2 batteries should be installed and wired; one for the house current and one for the starter. The batteries are to be installed in the engine compartment, probably in the foreward end of it. All wiring should meet the appropriate codes. The battery banks should be appropriately isolated, so that house power will not draw down the starting battery. Heavy cabling needs to run from the house battery to the amature radio.

See below for inverter/battery charger demands (so the batteries will be charged from shore power).

See also engine.


Basically not done; we do have a new 100 amp battery and an old 100 amp battery which has, so far, provided a minimal amount of power. We expect we will have to upgrade this fairly soon, for the only reason it works now is that we run the engine regularly.

---
Water maker (2 gph)

I tend to be very conservative with my water consumption. Therefore a very low output watermaker is needed. I would like this installed either in the engine compartment or in the galley bilge. It should be plumbed so that there are multiple strainers to keep the water as pure as possible going into it; the output should be a simple hose going into a 5 gallon bucket.

See also engine.
See also hatches.


This was purchased, but not hooked up. This summer we'll hook it up as a manual, and then perhaps later we'll hook it up as an electric.

---
Sails - main

The main sail is currently (essentually) destroyed. I need a new one.

For the design, see the sails page.


Wow, what a sail!

---
Sails - jib

The jib is in poor shape; the bottom is pretty badly frayed. I need a new one.

For the design, see the sails page.


New jib works great.

---
Sails - #1 genoa

I don't have a #1 genoa, but I would like one.

For the design, see the sails page.
Not done.

---
---
This ends the most important items.
---
---
Hatches

There are a lot of hatches on the Acrux. 3 into each outrigger (port, starboard); 1 into the forepeak; 2 into lockers by the main mast; 2 into the aft cabin; and there used to be 3 into the main cabin. Also the engine compartment hatch, which is cracked. Total of 15. Very few of these are in good shape. I would like all of them replaced and the ones into the main cabin restored. Probably the most efficient way to replace these is to purchase factory standard hatches, and then modify the opening to match the size of the hatches. Of course there will be a few instances where this won't work either because of size (eg engine compartment) or structure (eg forepeak hatch).

See also hatches.


Done, with care and expert finish.
---
Aft cabin repairs, sanding & painting

At this point we aren't sure whether we want to rebuild the aft cabin, or just repair it. A thorough inspection would help determine which route we want to go; there is a lot of bare wood and a certain amount of surface rot in the exposed wood (the windows in this photo are boarded up) so it may be easier to strip the cabin down to the deck and then rebuild it. I'd like estimates on both complete removal and rebuild, or simply repairing what is there.

See also aft cabin and cabins.
Done, but to a minimum standard (and certainly not rebuilt). But the wood proved to be in better shape than expected so it should hold up for quite a few years before we need to rebuild the cabin.

---
Main cabin sand & paint

Prior to the fire, I had some sanding and painting. In an effort to get rid of the smoke smell, I have done a lot more sanding (taking out a lot of the stuff I had originally painted, alas!). But there is a lot more sanding to be done. The ceiling has some very nice beams which are varnished; the ceiling is therefore a grid which makes it hard to sand and paint. But we like the final result, so we want it left the same as it is now (ie yellow paint between the beams, and varnish on them). The walls are all painted white (for example see the stove area). Floor areas are grey (for example see the main cabin floor). What we want is all the paint in the main cabin removed, and the wood prepaired (see below) if necessary, and then painted. Walls & bilge off-white (eg Petit 3108); floor grey; ceiling yellow. Basically keep the same color that is there now!

On all our sanding of plywood we end up with a waivy surface as the grain of the plywood is sanded away. While this is not *too* bad, we would be interested to know how much it would add to the cost to have it skim coated with something (perhaps resin/fill) and sanded smooth. This should be a separate item in the bid so we can decide if we can afford it!

See also cabin.


Done.
---
Head sand & paint

This is essentually the same as the painting the main cabin. The bulkhead beside the toilet has a layer of glass on it; other than that there is no difference from painting the main cabin.

See also head and toilet.
Done, with care and expert finish.

---
Forepeak sand & paint

The forepeak paint has badly peeled, so it needs a lot of sanding and painting.

See also forepeak.


Done.

---
Through-hulls (all input + output; 8?)

I do not trust any of the water inlets or outlets on the boat. I'd like every one replaced or removed; if possible I'd like a single source to feed the engine and galley (currently a single source--this photo shows the through-hull just below the filter, with outlets going to the head, sink and engine); and a single source to feed the head (or, perhaps, run a hose from the engine to the head). Salt water needs: Galley, Engine, Toilet, Bathroom sink

Waste water outlets needed (note that since these are not considered as critical because they are above the waterline, and so each need can have it's own outlet):

Engine, Kitchen sink, Toilet, Bathroom sink

While everthing is all taken apart we should probably replace all the hoses and everything that goes with it (hose clamps, etc).

See also bilge.


Done.

---
Toilet "box" replace

The toilet is sitting on a "box". I would like the top of this box removed, and "in" it I want a tank, then a hinged/latch top put on the box, with the toilet re-mounted on the top of the lid. The tank needs to be plumbed so the toilet can be flushed into it or overboard (valve selectable), and the tank also needs to be equiped so it can be pumped out or pumped overboard. See also above; toilet rebuild.

See also head.
Not done.

---
Shower (complete w/drain, tank, pump)

Just foreward of the head (just past this door), I want a shower installed. It can have a drain down into a tank in the floor under the head, from which I want a pump to pump it out.


See also forepeak and head.
Done.

---
2 bilge pumps (electric/auto)

I want several automated bilge pumps, both 12 volt and 120 volt. Preferably these will be plumbed into the manual bilge pumps so they use a minimum number of pump-outs.


See also pump.
This was only marginally done--one pump in the engine compartment, and the auto part was not correctly wired so it has to be hard wired.

---
Engine - soundproof

I am keen on minimizing noise from the engine.

See also engine.
Not done.

---
Dingy

I need a dingy. We would like one that can be deflated for storage. Since we probably won't be putting a motor on it, we don't need one that has a hard bottom.

We bought this before sailing the boat to Seattle to be rebuilt.



---
---
This ends the 2nd level items.
---
---
Replace aft cabin roof

This is a major project. If it isn't too costly I would like the entire aft cabin removed and rebuild from the deck up. A partial rebuild may also be possible; a careful examination of the structure and quality of the wood will determine what needs to be done at a minimum, and at the most everything should be replaced. The hull is ok, but the bunk floors have had water standing in them for extended periods (years); the walls and roof have been unprotected since before I bought the boat. So I don't have a lot of confidence in it right now, and think it should be critically examined, with the expectation that large areas (if not all) need to be replaced.


See also aft cabin and cabins.
Not done.

---
Outrigger sand & paint

Both port and starboard outriggers have badly peeled on the inside. They need to be completely sanded and re-painted.


See also outriggers and bilge.
Done.

---
Anchor roller

Currently there is no anchor roller. It would be handy to have one; the anchor tends to live on deck too much now.


See also bow and anchors.
Done.

---
Bunk insulate & 'glass

We sometimes end up staying on the boat at temperatures down below 0 f. Thus keeping the floor of the bunk warm is critical to an enjoyable stay. Right now we have 1" blue styrofoam that we sleep on; we'd like that permanently fiberglassed to the bunk floor, with a thin layer of 'glass over the top. This photo shows the foam we are using (not set in place though!).

See also bunk.
Not done.

---
Head doors and mirrors

The head door is in fairly good shape, but it shrinks and expands with moisture. Thus most of the time it will not shut. This problem needs to be fixed, either by shaving down the door or by replacing it. Also the mirror is corroded internally, and needs to be replaced or removed.

The door into the forepeak has the same problem.

See also doors and head.
Not done.

---
Instrument - wind speed/direction

While we don't want a lot of instruments, wind speed is something we'd be very interested in knowing. This should be mounted at the head of the mast.

See also mast.
Not done.

---
Instrument - water speed

Boat speed through the water is another we want.
Not done.
---
Instrument - depth/fish finder

As is a depth finder. If these require through-holes we'd like them combined as one, if at all possible.
Not done.
---
Mizzen mast rebuild

We have gotten a few different stories on the quality of the mast. I would like it looked at very closely and possibly even replace the mast. It certainly needs painting. The track at the end of the boom has pulled loose (as a result of pulling a motor out of the water with the boom--we pulled it up too high!)

See also mast.
Not done.

---
---
This ends the 3nd level items.
---
---
Wheel housing wood refinish

The wheel housing needs refinishing and a cover (over the rudder wires).


See also wheel.
This was completely replaced, and looks great!

---
Mast ladder - new "steps"

The ladder steps have mostly broken. They need to be replaced. I believe they are oak.


See also mast.
Done.

---
Mizzen mast steps to top

We are on the fence about whether we want this or not. But we'd like to know how much it would cost, so we can include that in our deliberations.

See also mast.
Not done.

---
Floor boards (6-8)

We do not know if we want to replace the plywood floor pieces in the main cabin. But we would like a price. If they aren't replaced we do want them sanded and repainted (with non-skid). The ones by the nav table do need to be replaced; they burnt.


See also cabins.
Not replaced, but repainted.

---
Electric light replace (total)

Very few of the lights on the boat work. I want all fixtures replaced.
Done, though not quite as I prefer. Still need lights in the outriggers and at the head of the bunks.

---
120 V. Electric outlets (6-8)

Many things in the modern society use 120 volts. So I'd like it run throughout the boat.
Only partially done--only 3 installed: port bunk, kitchen sink, head; need about 3 more outlets.

---
Inverter/battery charger

A large inverter/battery charger would be very nice so we can charge the battery when plugged into the dock.


I got a 750 watt inverter, rather than 2000+, which will power the smaller appliances. If needed we'll get the big one eventually.



---
New safety lines/posts

The safety line is shot, and several of the posts are bent. I'd like posts that are much stronger, and of course the line must be replaced.
The posts were not replaced (other than the bent ones), and the line was.

---
---
This ends the 4th level items.
---
Sails - spinaker

I don't have a spinaker, but I'd like one.

Although I don't have the specific design, other sails which should give an idea--see the sails page.
Not done.
---
propane safety shut-offs (remote, leak)

We like to shut off the propane when it is not in use. Getting out into the propane locker every time you use it is a nuisance; a remote switch would be really nice.

Done

.

---
Mast ladder - fixed so easy to climb

The mast ladder rungs are falling apart, and need to be replaced.
Done.

---
Mast paint (both)

The masts need to be stripped and clear coat put on them.
Not done.
---
Propane locker rebuild

The propane locker is old and falling apart. I want a new one built.


Done--by buying one from West Marine--but it isn't installed yet.



---
---
This ends the 5th level items.
---
Sails - mizzen staysail

I don't have a mizzen staysail, and would like one.

For the design, see the sails page.
Not done.

---
Rigging - complete replace

I am uncertain about the quality of the rigging, so I want it all replaced.
Not done, though it was completely inspected and declaired viable.
---
Kitchen counter

The kitchen counter is old, stained and a horrible color. We want to replace it.
Done--

wow, looks great!



---
Kitchen sink (new)

The kitchen sink is old, stained and scratched. It would be nice to have it replaced.
Done.

---
Kitchen facets (new)

The kitchen facets are in poor shape; replace.
Done.

---
Kitchen manual water pumps (salt, fresh)

The manual water pumps are old and in poor shape. I really like the style pump, so want exact replacements.
Done.

---
kitchen drains

The kitchen drain on the port sink failed. I'd like them entirely replaced so we don't have to worry about it.
Done.

---
---
This ends the 6th level items.
---
Instrument - battery bank maint.

A properly maintained battery will last significantly longer. This requires proper instrumentation.
Not done.
---
Mast steps to top

I would like to be able to climb the main mast without using the bosum chair. I only need them from the top of the mast ladder to the top of the mast.
Done.

---
Bathroom mirror

The bathroom mirrors (one on the door into the main cabin, one on the door into the forepeak/shower and the one over the sink) all need to be replaced because they are corroded.
Not done.
---
Bench seats

The old bench seats are shot; we need new ones.
This was only marginally done; we aren't happy with the plain boards (which aren't hinged) so we hope to replace them. In the mean time they are functional.

---
Dive gear storage

We love to dive; this means heavy tanks and that means a good way to secure them.
Not done.
---
---
---
This ends the 7th level items.
---
---
Instrument - water temp

A water temperature probe would be very nice.
Not done.
Engine - dive compressor

We love to dive; on the remote places we plan to travel this means having a dive compressor to keep our tanks topped up. Not sure if we can get one that will operate off the main engine, or a separate machine.
Not done.
Solar panels


We plan on spending lots of time away from marinas, and we don't plan on using the engine very much (especially when sailing the Pacific; around Alaska we probably won't have enough patience to wait for the wind!) This means we'll need to generate our own power from either wind or solar or some kind of water generator. I prefer solar; I think 4-6 panels at 70 watts each would be good to start with, and modify that as needed.
We have 1-70 watt solar panel, 3-90 watt solar panels and 2 small 10 watt panels. Total = 360 watts. We do not, however, have them hooked up yet. This hasn't been a problem yet because we are doing a lot of motoring, but we need to do it soon. Then we'll see if this produces enough power.
Signal flags

We want a professional ship...which means a complete set of signal flags.
Not done.
Engine remote control

If we were sitting in the crow's nest (see below), it would be nice to be able to control the engine, and guide the boat directly into anchorage from there. For this you'd need a complete remote control.
Not done.
Mast platform (crow's nest)

We frequently climb the mast ladder to get a better view. If a detachable crow's nest were put at the top of the mast ladder, we could sit in it--much more comfortable than standing on the ladder!
Not done.
Dining table replace (double as bunk)

The table is old and, while not in bad shape isn't new either. If we can afford a new one, it would be nice to fix it up so it can be lowered to form yet anther bunk.

Not done

.
Mattresses (4 double)

There are 4 double berths on the boat, two in the main cabin and two in the aft cabin. We need mattresses for these.
We got two mattresses made from foam that is only expected to give us about a year of use. We got one for the aft cabin, for company, and one for the main cabin, for us. We'll rotate them after 8-12 months worth of use, and hopefully get two years out of them before we have to buy new ones--which we'll get with the more expensive foam that is supposed to last several years.. If we have the other two berths occupied, we'll just have them bring their own bedding.
Seat cushions (12)

The Acrux has a lot of seats. Cushions would be very nice to sit on--right now they are all hard seats, and not very comefortable to sit on.
Not done.
Bathroom counter

The bathroom counter is old and discolored. It would be nice to have it replaced.
Done--looks great!
Bathroom sink

The bathroom sink is old and rusty. Money provided, it would be nice to replace it.
Not done.
---
This ends the 8th level items.
---
Wind Generator

Power is critical. If the solar panels don't provide enough we'll need some other supplimentation, like wind or one you drag through the water.
Not done.
Instrument - others

Windspeed and direction, rainfall, barometer, thermometer, water temp, etc would all be nice.


Not done

.
Radio - Ham

I would like a new ham radio, like the Icom 802, which can operate in marine bands as well as amature radio.
This is only partly done; I brought an old radio of Dad's and all the parts needed to set it up. It isn't yet set up, but I hope to get it done soon.
Radio - AM

We'd like a nice AM radio mounted in the boat.
Not done.
Radio antennas + wiring

We need two radio antennas: one for amature radio, and one for the marine radio.
The amature is not done,

but the marine is at the top of the main mast with the antenna coax running down the inside of the mast and to the radio

.
Sails - #2 genoa

I don't have a #2 genoa, but I'd like one. For the design, see the sails page.


Not done, but we really want one!



Trampolines (2) in front

Although we wouldn't use them all the time, trampolines between the bows would be nice--especially if we could remove them when we didn't want them.
Not done.
Insulate aft cabin roof

The main cabin stays nice and warm most of the time; we'd like the aft cabin to do the same.
Not done.
Propane tanks - aluminum

Steel propane tanks are subject to rust. We have one steel propane tank, and would like to replace it with two aluminum. Of course, this is going to be very expensive so we will probably have to wait until we can afford it.
We got one aluminum tank, and will use it with the steel one until the steel one gives out.
Bathroom cabinets?

The bathroom could use some cabinets for extra storage of things like sheets and towels. Behind the head would be the best location.


Not done.
Bunk curtains

The bunks need curtains to provide privacy while alongside docks; otherwise those strolling the dock can look right in.
Not done.
Furnace


We use the Acrux in cold water a lot. Some kind of furnace would be very nice. A minimum of 10,000 BTU is needed; preferably 25-35,000 BTU so it could be piped into the aft cabin.
Not done.
Ultralight storage?

I want to be able to carry an ultralight with me. The hard part is storing the airfoils; this would probably best be done in a long tube, which could be put up one of the outriggers. The rest of the aircraft could be torn down and stored in other places in the boat.


Not done

--need to get the ultralight before I can do it!
---
© by Ray R. Collins
The current copyright laws protect this page, even though it is not specifically copyrighted.
Please respect my work, and if you quote any portion please ask for permission unless it is a very short quote with references.
All photos © by Ray R. Collins; 2002